Finishment
Treatment
1 Singed and Calendered on both side or one side
Heading filter equiped with advanced Singeing and Calendering machine,after treating the needle punched filter felt have smooth surface . its air permeability is 50% higher than the common calendaring treatment and the smooth degree is better than the calendaring treatment.
A wide range of physical and chemical treatments are available in our company. We offer a variety of chemical treatments, when used in combination with the suitable fibre. Considerably enarges their scope of application and life expectation.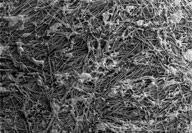 SEM picture of Singed surface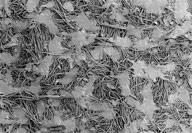 SEM picture of Calendered surface
2 Anti-static finishment
It is easily resulted in the explosion and conflagration after the consistency of common industrial powder and dust reaches the certain degree (explosion limit) if touching the static electricity light and spark outside.
By combining the conducting fiber into the transversal yarn in the needle punched felt base cloth or the conducting fiber and conducting material into the chemical fiber.Or conductive by additon of the stainless steel thread in the scrim.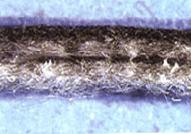 3 Oil and water repellent finish
The PTFE dip froming treatment which is used in particular for separating fine dust, To reduce the critical surface tension of the fiber so that it can effectively resist the water-based and oily liquid stains. Has been used in separation of the wet, oil and sticky dust. Oil and water repellent improved clean ability
4 Easily dedusting finish
By treating the surface resinification treatment, Easily dedusting needle punched filter felt have sooth surface and can improve the air permeability, smooth degree and reduce the dust adherence, operating resistance.
Improved cleanability, low fiber and particle friction of abrasive dusts Increase in the active filter surface area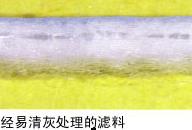 5 ePTFE Coating
The filtering surface of membrane is a very thin, extremely smooth and microporous film of expanded PTFE. For durability, the ePTFE membrane is bonded to the surface of a base fabric (the backing material)。By Coating inhance the Surface filtration. the dust rest on the surface of the filter felt not penetrating in it.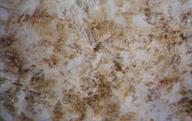 6 MPS(ultra-fine fiber)treatment
The Microporous character of the MPS-needlefelts ensures that even at the surface of the filter media an extensive dust separation ability. Higher filtration efficiency,but lower emission rate.Improved clean ability of the fine dust.Suitable for various finish treatments as requested.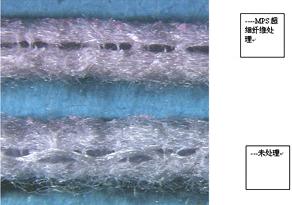 7 Graphite treatment
Graphite based permeable surface coating designed to resist spark burn through on polyester needle felt.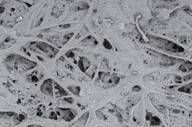 8 Blue foamed acrylic coating
Blue foamed acrylic coating designed to increase collection efficiency; for use in pulse jet applications. On certain products, achieves better class efficiency.